WIRELESS UPLIGHTING
Rent for $24 + Free Shipping

Rent wireless uplighting for an easy and affordable way to create a modern wedding reception. Uplighting will wow your guests by transforming your venue and adding ambiance. Clients consistently tell us that wedding lighting and event lighting has added more "pizazz" and garnered more compliments than any other decoration at their reception. The best part is that wireless uplighting is quick and easy for anyone to setup - no experience required! Click HERE to rent wireless uplighting.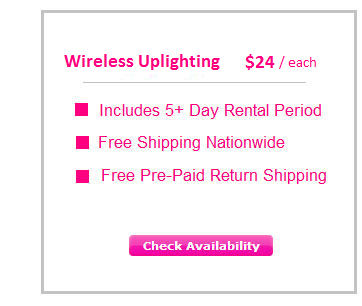 How to Setup:

Choose any color with remote


Set on floor, up against wall


Battery lasts 8 hours
Rental Process:

FREE shipping both ways


Delivery 2 days before event


Return 2 days after event
100% Satisfaction Guarantee

Guaranteed in perfect working order


24/7 helpline


Rated #1 with 2,700 reviews!
HOW MANY UPLIGHTS DO YOU NEED?
How many uplights should you rent? As a general rule of thumb, place uplights every 10 feet around the room. This will create a beautiful look and add ambiance. Check out the quantity estimates below, or create a custom quote with our uplighting calculator.
Up to 75 Guests: 10 Uplights
76 - 150 Guests: 16 Uplights
151 - 225 Guests: 24 Uplights
226 - 300 Guests: 32 Uplights
300+ Guests: 40+ Uplights

WIRELESS UPLIGHTING: LEARN MORE
Wireless Uplighting FAQ:
Wireless uplighting is easy for anyone to setup. Below are videos and quick reference guides for everything you need to know about wireless uplighting and how to set up your Rent My Wedding up lighting.

    ~ FAQ: All About Wedding Lighting
    ~ INSTRUCTIONS: DIY Up Lighting
    ~ COLOR CHART: Up Lighting Colors
    ~INSPIRATION :  DIY Ideas for Up Lighting
Uplighting Colors
Wireless uplighting can be set to almost any shade of any color using the remote control provided, or using the menu buttons on each individual light. Click HERE for color chart.
Battery Life:
The wireless uplights will last for at least 8 hours. After 8 hours, the lights will fade gradually. The lights will power off completely after 8.5 - 10 hours, depending on the color used. To conserve battery during setup - position lights around the room, select colors, and then power off using the remote. When event is ready to start, use remote to power lights back on. They will automatically default to the last color programmed.

Charging Uplights:
We fully charge uplights prior to shipping, however, you may need to charge the uplights because the power switches can get turned on while in transit with FedEx. There is a battery indicator on each light. Charge all lights at the same time using a single outlet and charging cables provided.
Wireless Uplighting Specifications: 
We rent professional-grade Chauvet EZPAR56 LED wireless uplights.
Rent Wireless Uplights:  $24/each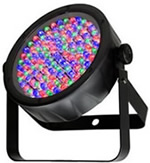 Rent wireless uplights for $24 each . Rental price includes everything you need - wireless uplight, remote, power cord for charging, and free shipping both ways. ( The battery is also included - it is part of the light fixture ).

Shipping:
Enjoy FREE shipping both ways on all wireless uplighting rentals within continental U.S. Wireless uplighting rental delivery is guaranteed at least  two days before your event date. We guarantee uplighting will arrive on-time, with all uplights in perfect condition .
Returns:
Enjoy FREE return shipping on all wireless uplighting rentals. Simply use the prepaid shipping labels provided to return the package at any FedEx location, or call FedEx to schedule a free pickup. Rentals are due back to FedEx two days after event date. No late fees as long as you call to make arrangements if you are unable to return your items on time.
Cancellations:
We understand that plans change! You can change or cancel an order anytime before you package ships out. We'll provide a full refund. Full refund will be issued within 1 business day of cancellation.
When to Reserve Uplighting:
How far in advance should you rent uplighting? It's up to you! Book ahead of time for one less thing to worry about, or wait until closer to your event if you prefer. We work with clients that book everywhere from 1 year to 1 day in advance. We're flexible and here to help!



WIRELESS UPLIGHTING EXAMPLE PHOTOS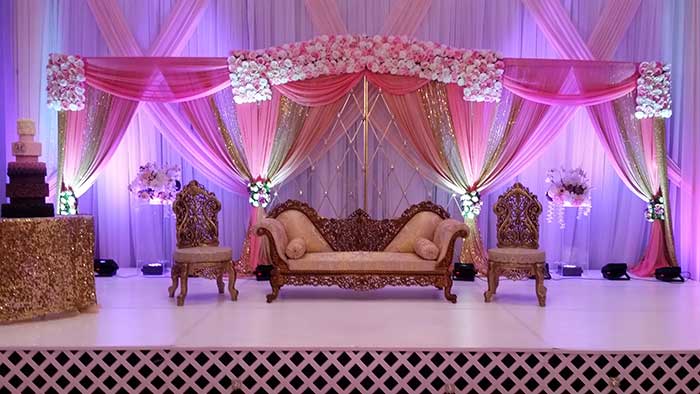 Pink uplighting on head table backdrop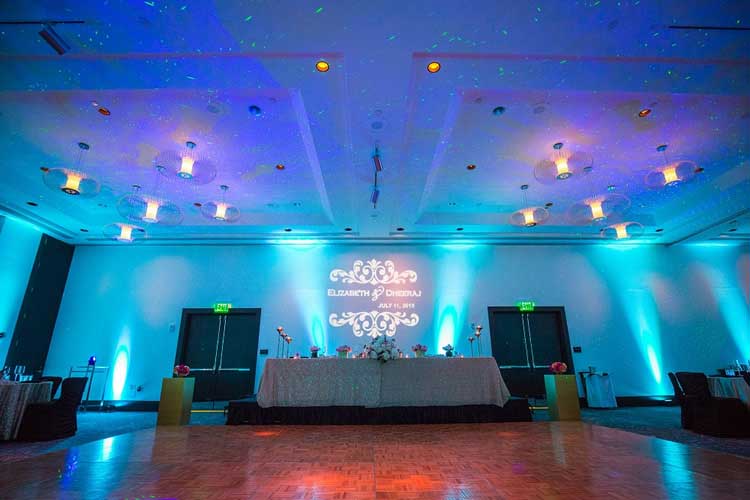 Teal blue wireless uplighting for wedding reception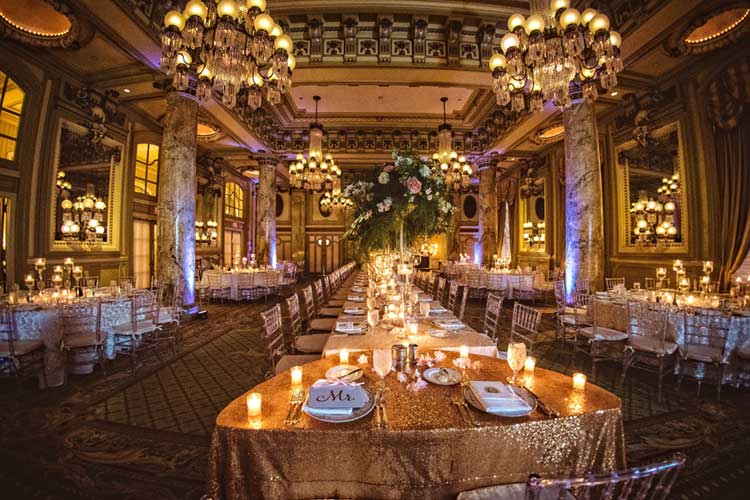 Uplighting on pillars for accent lighting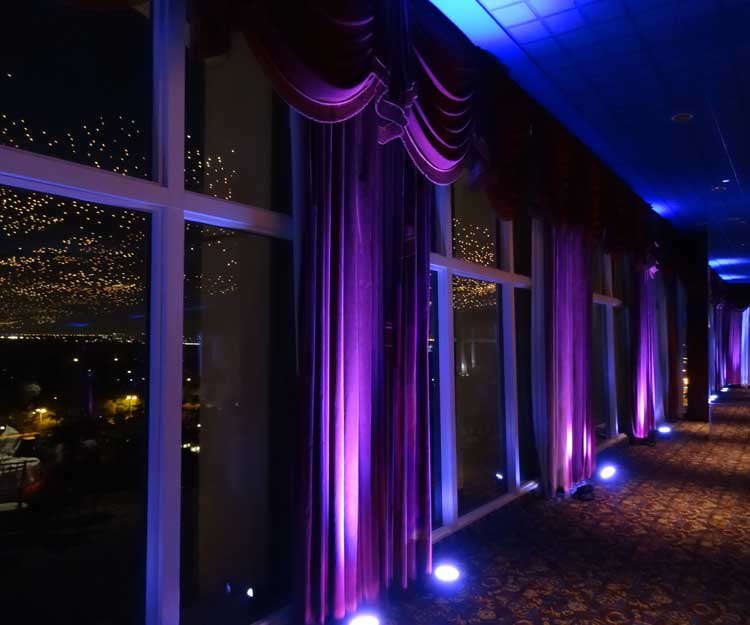 Uplighting on curtains for accent lighting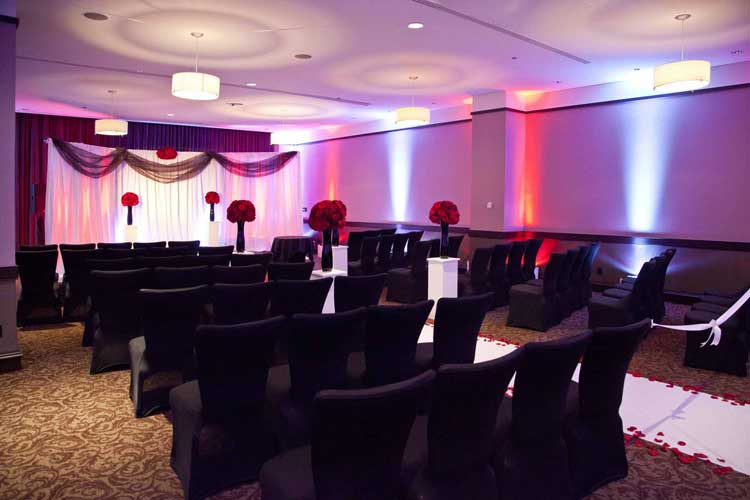 Colorful uplighting for wedding ceremony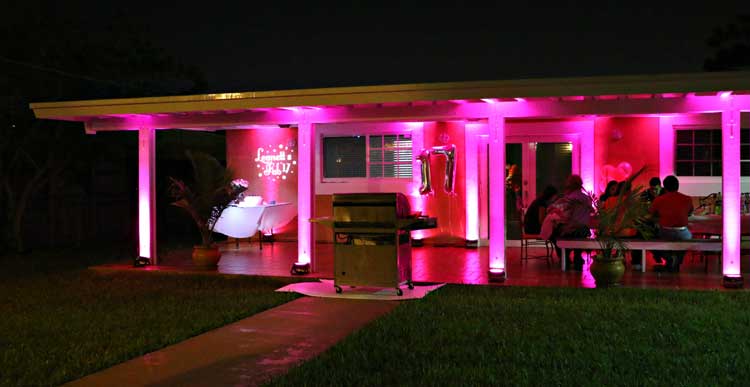 Outdoor uplighting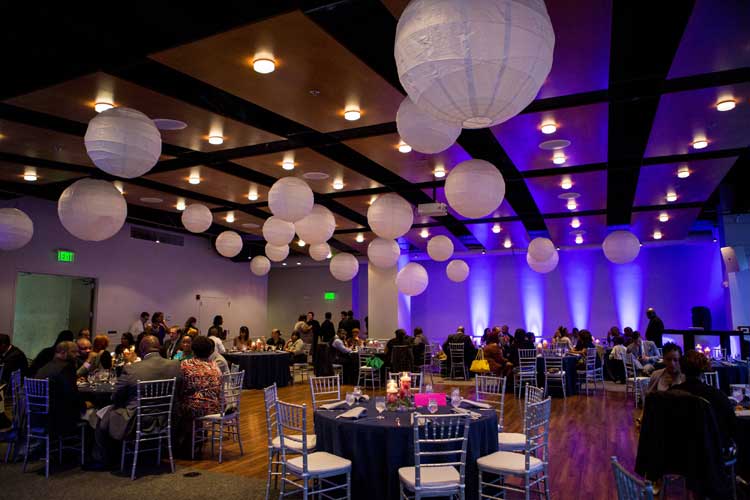 Purple uplighting on white walls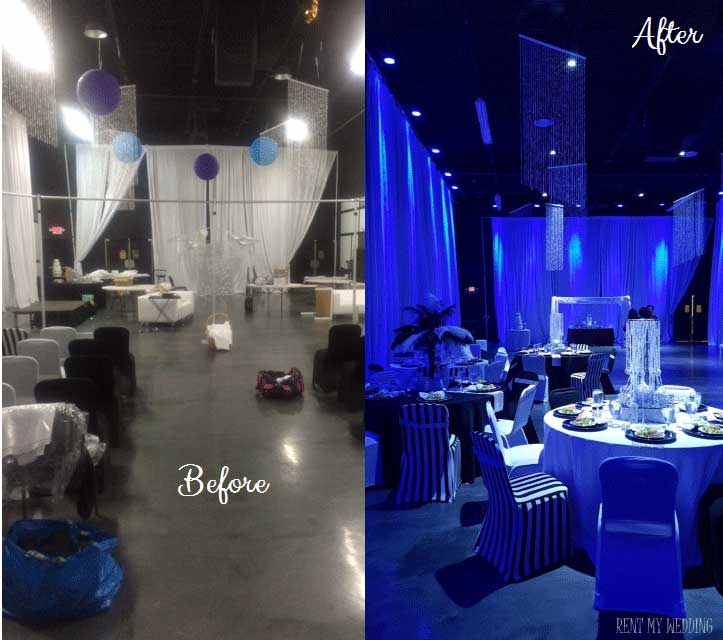 Wedding makeover: before and after with uplighting