TABLE GLOW
Add a "Wow" effect to banquet tables!
Table glow effect is created using 1 or 2 wireless lights underneath a table. You can set the lights to any shade of any color to transform your linens! We recommend 2 uplights per table for maximum glow, or 1 uplight per table for a nice accent effect. Click the button on the right to rent wireless uplighting for table glow.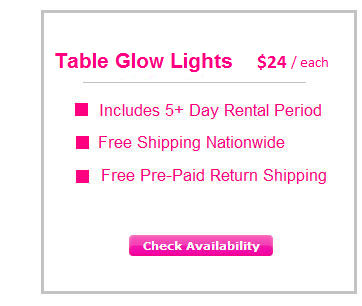 Table Glow Setup
1. Plug it in.
2. Set on floor underneath table.
3. Tilt light until you see the linens light up with color.
You're done! Do-it-yourself table glow lighting is quick & easy to setup in a matter of minutes.
Free Shipping & Returns:

Free shipping both ways.

Delivery guaranteed at least two days before event date.

After event, put rental items back in same box with pre-paid return shipping label provided.

Return package to FedEx two days after your event, or schedule a free FedEx pickup.
100% Satisfaction Guarantee

Table glow uplights are guaranteed to arrive at least two days prior to your event date.

Table glow uplights are guaranteed to arrive in perfect working condition.

Prices for table glow uplights are all-inclusive. No hidden fees.
Click HERE to read more about our 100% customer satisfaction guarantee for our gobo rentals. Or Click HERE to read our 1,000+ reviews on WeddingWire for table glow lights.


LEARN MORE ABOUT TABLE GLOW
Table Glow Quick Reference Links:
Table glow lighting is easy for anyone to setup. Below are videos and quick reference guides for everything you need to know about wireless uplighting for creating a table glow effect.
    ~ INSTRUCTIONS: Wireless Uplighting for Table Glow
    ~ COLOR CHART: Up Lighting Colors
    ~ INSPIRATION : Table Glow Photo Gallery
Battery Life:
The wireless uplights will last for at least 8 hours. After 8 hours, the lights will start to fade very gradually. The lights will be powered off completely after 8.5 - 10 hours, depending on the particular color used. For setup, you can position all of the lights around the room, select colors, and then power the lights off using the remote. When the even is ready to start, use the remote to power the lights back on. They will automatically default to the last color that was programmed.
Rent Table Glow Uplights: $24/each
Rent wireless table glow uplights for $24 each.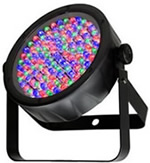 Rental price includes everything you need - wireless uplight, remote, power cord for charging, and free shipping both ways. (The battery is also included - it is part of the light fixture).
How Many Lights to Order:
Maximum Glow: 2 wireless uplights per banquet table
Accent Glow: 1 wireless uplight per banquet table

When To Order Table Glow Lighting:
We recommend reserving your wireless table glow uplighting 30 - 60 days prior to your wedding or event to ensure availability. However, we can also accomodate last minute orders as well - just give us a call and we're happy to help!
Colors for Table Glow Lighting:
Table glow lighting can be set to almost any shade of any color with the push of a button on the remote.

TABLE GLOW RENTAL POLICIES
Shipping:
Enjoy FREE shipping both ways on all rentals within continental U.S. Delivery is guaranteed at least two days before your event date. We guarantee packages will arrive on-time, with all rentals in perfect condition.
Returns:
Return rentals to any FedEx location two days after event date. Use same box and pre-paid FedEx label provided for return. No late fees as long as you call to make arrangements if you are unable to return your items on time.
Payment:
Flexible payment options - pay 25% now and balance later. No hidden costs or fine print - all rental prices include everything you need. No security deposit. No late fees as long as you call to make arrangements if you are unable to return your items on time .
Cancellations:
Cancel anytime before you package ships for a full refund. Full refund will be issued within 1 business day of cancellation .