STARRY NIGHT LIGHTING
Create a starry night sky with a blisslight!
Starry night lighting is an easy way to add ambiance to your wedding or event. One small box delivers the effect of a starry night sky to any dark room. Thousands of slowly moving, brilliant green laser beams glide in different directions across the walls, ceiling, and floor. There is also a holographic blue nebula cloudfield that can be turned on or off to create a realistic looking night sky. The total rental cost is $99 for the starry night lighting.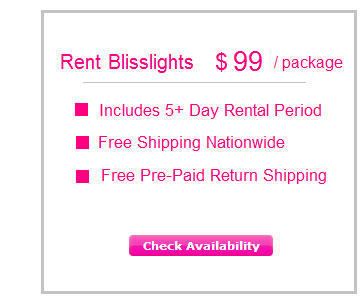 Starry Night Lighting Setup
1. Plug it in.
2. Set on a table or shelf.
3. Aim at ceiling or wall.

You're done! Do-it-yourself starry night lighting packages are quick & easy to setup in a matter of minutes. The starry night package comes with everything you need - all you do is plug it in. Use a button on the blisslight to control the intensity of the blue clouds for the starry night.
Free Shipping & Returns:

Free shipping both ways.

Delivery guaranteed at least  two days before event date.

After event, put rental items back in same box with pre-paid return shipping label provided.

Return package to FedEx two days after your event, or schedule a free FedEx pickup.
100% Satisfaction Guarantee

Starry night lighting is guaranteed to arrive at least two days prior to your event date.

Starry night lighting is guaranteed to arrive in perfect working condition.

Prices for starry night lighting are all-inclusive. No hidden fees.
HERE to read more about our 100% customer satisfaction guarantee for our gobo rentals. Or Click HERE to read our 450+ reviews on WeddingWire for starry night lighting.


LEARN MORE ABOUT STARRY NIGHT LIGHTING
PRICE: $99 per starry night package
Rent a complete blisslight package for $99. Price includes everything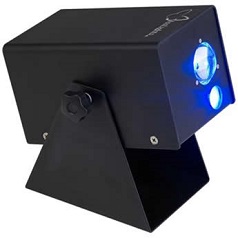 you need plus free shipping both ways.
RENTAL PROCESS
Click the button at the top of this page to begin your order and Check Availability . The blisslight will be delivered at least two days prior to your event.
POWER CONSUMPTION
Starry night lighting uses LED technology, which means that there is very low power consumption. A single starry night uses less electricity than a small incandescent light bulb.
STARRY NIGHT LIGHTING COLORS
The stars are a neon green color. When viewed from a distance, you will see a realistic looking night sky.


FREQUENTLY ASKED QUESTIONS -- STARRY NIGHT LIGHTING
What is starry night lighting?
The starry night lighting is created using a product called a "blisslight." A blisslight is a lighting fixture that creates a starry night sky effect. It projects stars as well as optional blue clouds.
How big is the starry night lighting?
The blisslight product measures 4.4" wide x 4.4" tall x 8" long. The mounting bracket included is 5" x 6" x 6." This bracket can be used as a table top stand, and allows you to tilt the blisslight at different angles. The bracket can also be used to hang the blisslight from a lighting stand or DJ equipment stand.
Where can starry night lighting be used?
The starry night lighting can be used on any light colored surface. (On a dark surface, the stars will not be as visible). For best results, use the blisslight in a dark room . The darker the room, the more dramatic the effect.
Technical specifications: 
Our blisslights have been carefully tested and FDA approved for safe viewing.
How much area does the starry night cover?
The farther away the blisslight is from the wall or ceiling, the larger the coverage will be. When projected from the floor onto a 15-foot ceiling, the blisslight will directly cover an area 25 feet x 25 feet, with some star beams traveling up to 100 ft away.
How many lights do I need?
Most of our clients use 1 - 2 blisslights for their weddings and events. One blisslight will cover an area of about 25 feet by 25 feet. For smaller venues, one blisslight is sufficient to cover the ceiling. For larger venues, there are two options: 1) use one blisslight and place it strategically in the venue; or 2) use two or more blisslights to cover the entire ceiling. See below for recommended placement of the blisslight.
Where do I put the starry night light?
We recommend placing the blisslight in a corner and pointing towards center of the ceiling. This will create a dramatic night sky effect in the middle of the ceiling, and it will gradually taper away towards the edges of the ceiling. Alternatively, you can position a single blisslight strategically so that it covers the ceiling directly above the dance floor or head table. If you are using multiple blisslights, place them in separate corners of the room.

OUR STARRY NIGHT LIGHTING RENTAL POLICIES
Shipping:
Enjoy FREE shipping both ways on all rentals within continental U.S. Delivery is guaranteed at least  two days before your event date. We guarantee packages will arrive on-time, with all rentals in perfect condition.
Returns:
Return rentals to any FedEx location two days after event date. Use same box and pre-paid FedEx label provided for return. No late fees as long as you call to make arrangements if you are unable to return your items on time.
Payment:
Flexble payment options - pay 25% now and balance later. No hidden costs or fine print - all rental prices include everything you need. No security deposit. No late fees as long as you call to make arrangements if you are unable to return your items on time .
Cancellations:
Cancel anytime before you package ships for a full refund. Full refund will be issued within 1 business day of cancellation .
When To Order:
We recommend reserving your starry night lighting rentals 30 - 60 days prior to your wedding to ensure availability. We will automatically schedule your package for delivery at least two days prior to your event date. Many clients book further out so that there is one less thing to worry about later. However, we can also typically accommodate rush orders as well - just give us a call and we would be happy to help.


STARRY NIGHT LIGHTING EXAMPLE PHOTOS
Starry night lighting creates an amazing night sky effect for weddings and events.