CENTERPIECE SPOTLIGHTS
Highlight florals with centerpiece spotlights!
Centerpiece spotlights make the special details at your event pop. Centerpiece spotlights are small, narrow beams of light used to illuminate centerpieces, floral arrangements, centerpieces, and any other important aspects of your event. This is also known as "pinspotting" or "pin spots." Our wireless centerpiece spotlights are quick and easy to setup. The spotlights come with a variety of mounting accessories so you can use these lights in any venue.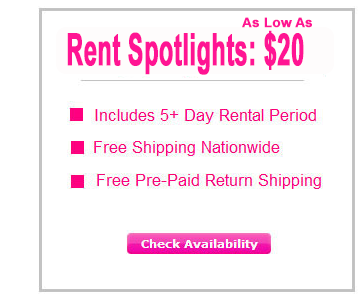 Easy Wireless Uplighting
1. Mount spotlight.
2. Tilt towards centerpiece or centerpiece.
3. Turn on light using remote!

Do-it-yourself centerpiece spotlights are quick & easy to setup in a matter of minutes. The centerpiece spotlight comes with everything you need. Mounting options include tabletop setup, mounting to ceiling, or attaching to any metal surface.
Free Shipping & Returns:

Free shipping both ways.

Delivery guaranteed at least  two days before event date.

After event, put rental items back in same box with pre-paid return shipping label provided.

Return package to FedEx two days after your event, or schedule a free FedEx pickup.
100% Satisfaction Guarantee

Centerpiece spotlights are guaranteed to arrive at least two days prior to your event date.

Centerpiece spotlights are guaranteed to arrive in perfect working condition.

Prices for centerpiece spotlight rentals are all-inclusive. No hidden fees.
Click HERE to read our 1300+ reviews on WeddingWire for centerpiece spotlight rentals.


CENTERPIECE SPOTLIGHT SETUP OPTIONS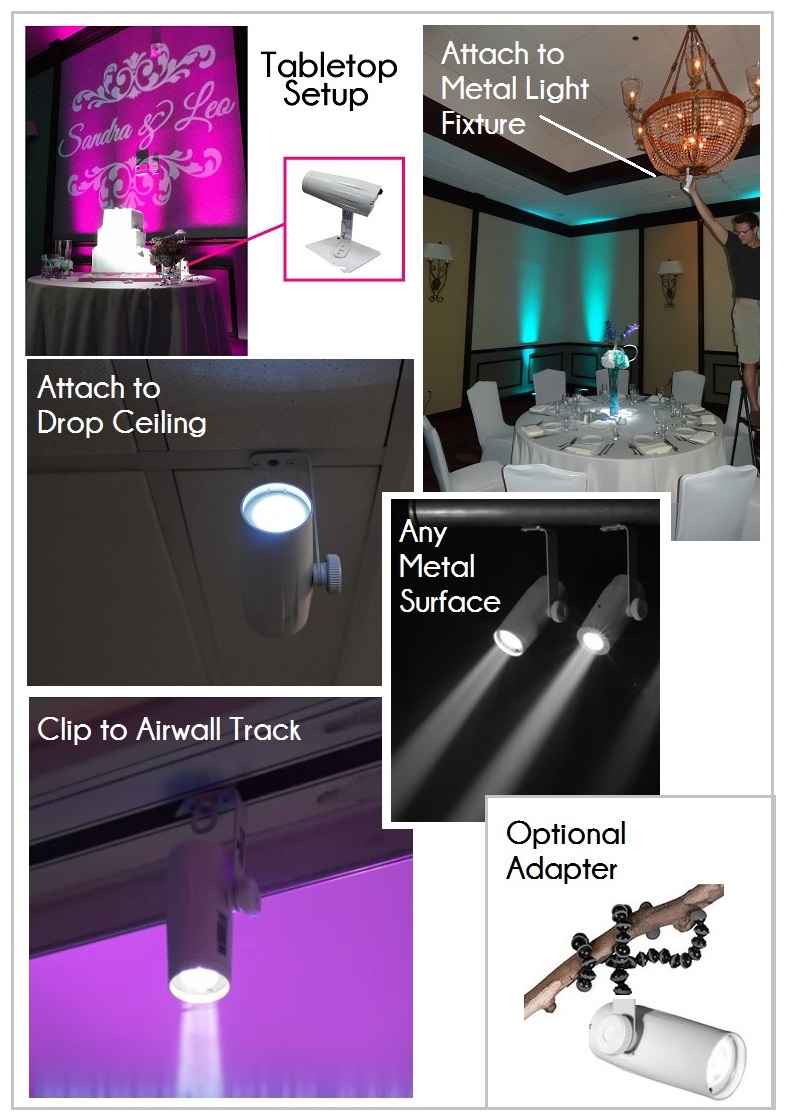 LEARN MORE ABOUT CENTERPIECE SPOTLIGHT RENTALS
CENTERPIECE SPOTLIGHT SETUP
Setup is quick and easy in a matter of minutes!
1. Mount spotlight
2. Tilt towards centerpiece or centerpiece
3. Turn on light using button or remote
CENTERPIECE SPOTLIGHT MOUNTING OPTIONS
1. Tabletop setup
2. Attach to any metal surface using magnetic clip
3. Attach to drop ceiling using scissors clip
4. Use optional adapter to wrap around poles/branches*
*The optional spotlight adapter allows for mounting virtually anywhere. It has flexible legs that wrap around and hold onto tent poles, tree branches, curtain rods, etc.
BATTERY LIFE
The wireless centerpiece spotlights use battery power. The spotlights run at full power for 5 hours. After five hours, and spotlights will gradually start dimming. The spotlights will be charged prior to shipping. We also provide chargers so that you can charge the spotlights prior to your event if needed. The centerpiece spotlights use LED technology, which means that they stay cool all night and do not pose a fire hazard.
PROJECTION DISTANCE
The spotlights can be positioned up to 25 feet away from the centerpiece or centerpiece in a dimly lit room. If the room has full overhead lighting, we recommend positioning the lights 15 feet away from the centerpiece or centerpiece. For an extra special effect, use uplighting to add a colorful backdrop! Click HERE for information on uplighting rentals.
PRICE:  As low as $12 per spotlight*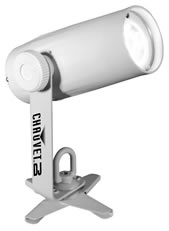 1 Spotlight: $19


2 - 5 Spotlight: $16/each


6+ Spotlights: $12/each
Prices include free shipping both ways in the continental U.S.
QUICK REFERENCE LINKS
Below are videos and quick reference guides for everything you need to know about DIY pinspot rentals.
    ~  Video :  Centerpiece Spotlight Setup Demo
    ~ Instructions: Centerpiece Spotlight Setup
    ~ FAQ: All About Wedding Lighting
    ~ Inspiration :  DIY Centerpiece Spotlight Ideas
RENTAL PROCESS 
Click the button at the top of this page to begin your order and Check Availability . The centerpiece spotlights will be delivered at least two days prior to your event.

PINSPOT COLORS
The centerpiece spotlights produce a white light. For other color options, please contact us at 1-800-465-8020.

FREQUENTLY ASKED QUESTIONS -- DIY CENTERPIECE SPOTLIGHT RENTALS
What's a Centerpiece Spotlight?
A centerpiece spotlight is a lighting fixture that illuminates a centerpiece, centerpiece, or anything else. They are also referred to as "pin spots" or "pinspotting." Typically the centerpiece spotlight is affixed to the ceiling and shines down.
How do I mount Centerpiece Spotlights?
There are three options for setup:
1. DROP CEILING: If you have a drop ceiling, you can attach the centerpiece spotlight to the ceiling using its magnetic base. See photo above. Alternatively, the centerpiece spotlight has a special clip that can clip onto drop ceilling supports.
2. METAL SURFACE: The centerpiece spotlights can be attached to just about any metal surface.
3. LIGHTING STAND: If you have a lighting stand (not included) you can clamp the centerpiece spotlights to the lighting stand for setup.
How many Centerpiece Spotlights do I need?
We recommend using 1 - 2 spotlights for a centerpiece, and 1 spotlight for a centerpiece.
How big is the Centerpiece Spotlight?
The centerpiece spotlight is 7.5" long x 3.5" wide. It weighs about a half pound.
How long does the battery last? 
The battery will last 5 hours at full power. After 5 hours, the centerpiece spotlights will gradually start to dim. The centerpiece spotlights will turn off after about 6 hours of operation. You can charge the centerpiece spotlights by plugging them into any outlet using the power cord provided. It takes 3 hours to fully recharge the centerpiece spotlights.

OUR CENTERPIECE SPOTLIGHT RENTAL POLICIES
Shipping:
Enjoy FREE shipping both ways on all rentals within continental U.S. Delivery is guaranteed at least  two days before your event date. We guarantee packages will arrive on-time, with all rentals in perfect condition.
Returns:
Return rentals to any FedEx location two days after event date. Use same box and pre-paid FedEx label provided for return. No late fees as long as you call to make arrangements if you are unable to return your items on time.
Payment:
Flexble payment options - pay 25% now and balance later. No hidden costs or fine print - all rental prices include everything you need. No security deposit. No late fees as long as you call to make arrangements if you are unable to return your items on time .
Cancellations:
Cancel anytime before you package ships for a full refund. Full refund will be issued within 1 business day of cancellation .
When To Order:
We recommend reserving your centerpiece spotlights 30 - 60 days prior to your wedding to ensure availability. We will automatically schedule your package for delivery at least two days prior to your event date. Many clients book further out so that there is one less thing to worry about later. However, we can also typically accommodate rush orders as well - just give us a call and we would be happy to help.


CENTERPIECE SPOTLIGHT EXAMPLE PHOTOS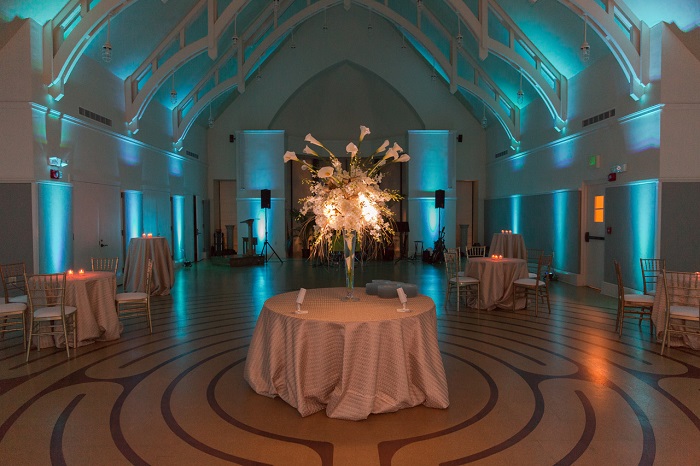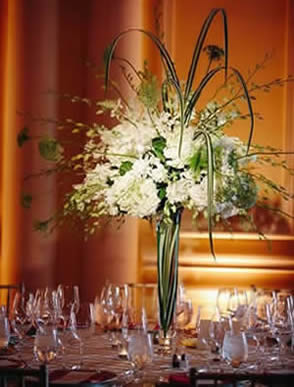 Before After