CAKE SPOTLIGHTS
Highlight centerpieces and cakes with cake spotlights!
Cake spotlights make the special details at your event pop. Cake spotlights are small, narrow beams of light used to illuminate centerpieces, floral arrangements, cakes, and any other important aspects of your event. This is also known as "pinspotting" or "pin spots." Our wireless cake spotlights are quick and easy to setup. The spotlights come with a variety of mounting accessories so you can use these lights in any venue.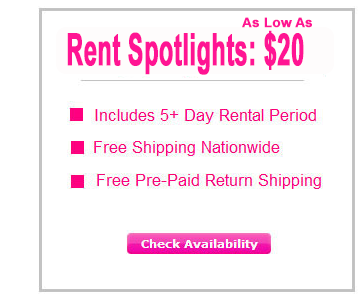 Easy Spotlight Setup
1. Mount spotlight.
2. Tilt towards centerpiece or cake.
3. Turn on light using remote!

Do-it-yourself cake spotlights are quick & easy to setup in a matter of minutes. The cake spotlight comes with everything you need. Mounting options include tabletop setup, mounting to ceiling, or attaching to any metal surface.
Free Shipping & Returns:

Free shipping both ways.

Delivery guaranteed at least  two days before event date.

After event, put rental items back in same box with pre-paid return shipping label provided.

Return package to FedEx two days after your event, or schedule a free FedEx pickup.
100% Satisfaction Guarantee

Cake spotlights are guaranteed to arrive at least two days prior to your event date.

Cake spotlights are guaranteed to arrive in perfect working condition.

Prices for cake spotlight rentals are all-inclusive. No hidden fees.
Click HERE to read more about our 100% customer satisfaction guarantee for our pinspot rentals. Or Click HERE to read our 1200+ reviews on WeddingWire for cake spotlight rentals.


CAKE SPOTLIGHT SETUP OPTIONS