BACKDROP SIZING
Backdrop Height:
Our backdrops are available with 8 foot tall or 10 foot tall kits. The height can be adjusted lower if desired.


Backdrop Width:
Choose your backdrop width on the order form. If you don't see the exact width you need on the order form, choose the closest width. For example, to cover a 20 foot wide wall, order the 24 foot wide kit. During setup, you can adjust the backdrop down to the exact width you need.
Backdrop Quantity:
Order a separate backdrop kit for each separate area that you want to cover. For example, if you need a 12 foot backdrop behind the cake, and a 24 foot backdrop behind the head table, then you should order (1) 12 foot wide kit, and (1) 24 foot wide kit. On the other hand, if you just need to cover one long 60 foot wall, then order (1) 60 foot wide backdrop.
Important Notes:
You should ONLY order multiple backdrops if you need to cover multiple / separate areas. If your goal is to cover one area, you should order one backdrop, and choose the specific width that you need on the order form.
Our kits come with different components depending on the size and quantity ordered.

Separate backdrops cannot be connected to each other. (You can place them next to each other, but there will be a gap between each backdrop).
Wider backdrops cannot be split up into multiple smaller backdrops. (But you CAN decrease the overall width of a backdrop).
Wider backdrops come with special connector pieces to create the appearance of one seamless backdrop. See photo below for the difference between (1) 24ft wide backdrop versus (2) 12ft wide backdrops together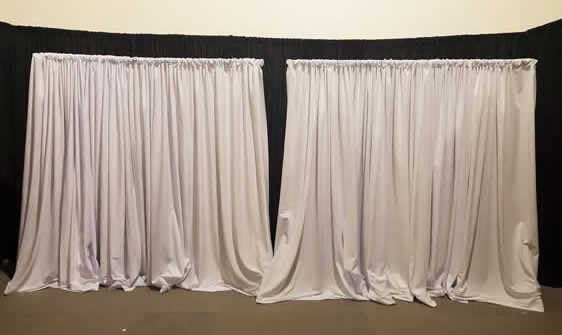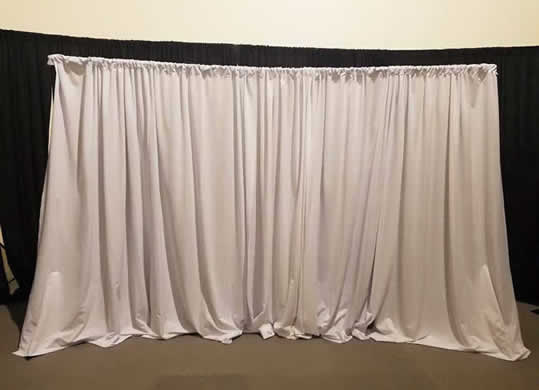 LEFT: (2) 12-foot backdrops next to each other | RIGHT: (1) 24-foot backdrop

Covering an Entire Room?
Measure the height and width of walls you need to cover.
If there are doors or other areas you do not want covered, do not include those in your measurements.
Use a separate backdrop for each continuous area of the room. See diagram below.